SHOTZI-ROMMEL PUPPIES BORN 7-30-06
ALL ARE SOLD
TELARGOES SHOTZI V KONIGLICH, CD, CGC, OFA
The feeding frenzy - Their first gruel
FEMALE 1 at 4 months
SOLD
$500.00 Full AKC registration
Koniglich's Blitz von Rommel at 4 months
NOT FOR SALE
Since Rommel's death we have decided to keep Blitz. He will follow in his father's footsteps to become our foundation stud. Look for his puppies in two years.
MALE 3 - 4 Weeks
SOLD
MALE 5 at 12 weeks
SOLD
FEMALE 3 at 12 weeks
$500.00 Full registration
SOLD
Male 5 enjoying a belly rub.
KONIGLICH'S ROMMEL VD GRUVER, OFA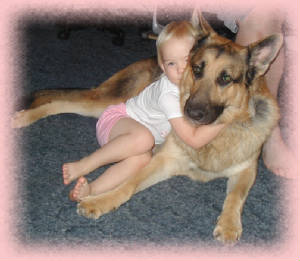 Rommel accepting a hug from 3 yr old Alicia
FEMALE 2 at 4 months
SOLD
$500.00 Full AKC Registration
This puppy has been started on crate training and house training.
MALE 2 at 12 weeks
$400.00 Pet Quality - Limited registration
SOLD
MALE 4 at 12 weeks
$500.00 Full registration
SOLD
MALE 6 - 8 Weeks
SOLD
Male 2 receiving child socialization lesson
Enter subhead content here